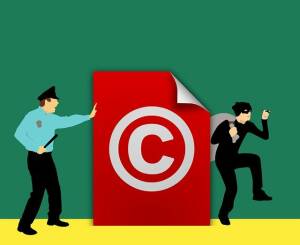 copyright
Some of the pictures and photos we find online are so dear to our hearts that we feel they are ours.
But just like in a store, the product is not ours until we pay for it, so the images on the Internet are not ours until we obtain the right to use them or the permission of the copyright owner to use them.
Copyright protects the authors of various copyrighted works or. intellectual property.
Although copyright law is read slightly differently in different countries, there is an international convention that sets out minimum conditions for copyright protection for intellectual works created anywhere in the world. The Berne Convention has been signed by 180 countries. This convention thus applies to the whole world, including the entire Internet.
Author's work in short means that the author got a unique idea for this work, created it himself and then published it himself.
Of course, authors are in the minority, and people who like copyrighted works are in the vast majority. And it is clear that the authors create in order to make their works like other people, to praise them and also want to (buy) them.
Everything we find online is copyrighted. The question is whether we need the author's consent to use an individual work or not – it is safest to assume that for every work we find online, we need the author's permission to use. Sometimes this permission is free, but most of the time the right to use the copyright work has to be redeemed.
These amounts are usually not high – at least for graphics and images there are many portals where you can find a huge amount of material and buy it at reasonable prices.
Since graphics and images are the most common in the case of T-shirt printing, here are some quick instructions on how to ensure that ordering printing does not infringe copyright.
We look for the copyright owner and check what usage rights he may have already granted. If we want to use his graphics or image for a purpose that is not free, we inquire about the price, duration and other conditions of the purchase of the right to use copyright. Namely, this right is not alienable, the author can grant it only for a certain time, and it can also limit the possibilities of use or. sells you the right to different uses. Then we have to make sure that we use the work in accordance with the acquired rights.
As we get used to the fact that copyrighted works are completely equivalent to all the physical products we can buy in stores, thinking about copyright will become more reassuring. Namely, we all want our work to be recognized and rewarded, so we treat others the same way we want others to treat us.
There are many sites where you can order photos for free or at very low prices, say
Pexels.com
,
Pixabay.com
and others.
When ordering a unique print on this online store, the client assumes all responsibility arising from the use of copyrighted works.
The Contractor may not verify the copyright or guarantee it, but undertakes not to offer or sell orders related to the use of copyright works to third parties.