If you are good at designing, then you know that designing for the purpose of print on T-shirts is technically a little different, but with a little knowledge of printing techniques, designers have no problems.
Do you have your own graphics that you want to have print on a t-shirt? Save it in png format and upload it via the Design Your Own tool. In the application you will be able to choose the product you want to print on (T-shirts, hoodie , bags, mugs , pillows, puzzles …) and product properties (size and color of T-shirts, etc.).
Inside the formatting tool, you can add text, even curve it, change the size, font and color of the text. You can also use all the graphics you find in the app, including various templates, cliparts and images.
Our printing house offers several different textile printing techniques. All techniques ensure durable printing. However, for each technique, the graphics need to be prepared a little differently.
We are happy to advise you on how to prepare the graphics so that they are suitable for printing. The basic rules are:
if you want to print a photo or multicolor graphics, send us a backgroundless image in the highest possible resolution. If you can't remove the background, don't bother, we'll remove it. If you are in doubt whether the picture is of sufficient quality, send it to us at info @ garderoba .si and we will check together what we can do. So far, we have still found a suitable solution.
if your graphics are vector or it is an inscription, then send us the vector .pdf format. If you don't know what a vector graphic is and how to send a caption, just send us what you have – if necessary, we'll give you further instructions on how to prepare the graphic. Otherwise, we will find ourselves out of what you send us.
You know, if we get something of quality in our hands, the final product will be good. If we mix bad ingredients, the result is sometimes not the best. But sometimes we are lucky and everything goes well.
Design your own – direct link to an online t-shirt print design program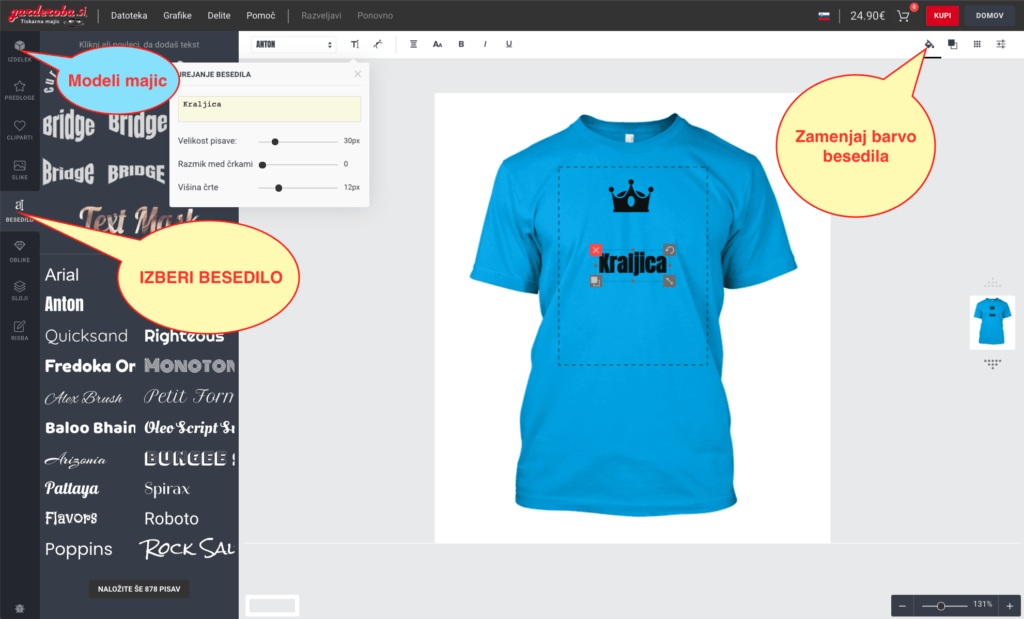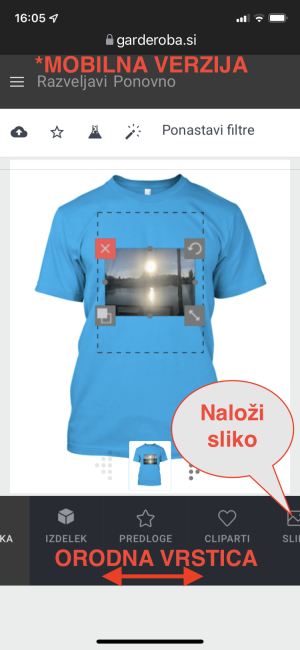 T-shirt printing Garderoba
is a trademark of Gajcom , which has been printing on T-shirts for 30 years. T-shirt printing is both a challenge and a pleasure for us. Over the years, we have perfected printing techniques, purchased new and new t-shirt printing machines, and in some cases even helped develop technology. We are currently printing in two state-of-the-art techniques, namely:
Unique, small quantities and sample prints are print on the Kornit Breeze DTG printer. The colors are ecological, the print process is slow, but of exceptional quality – the prints are vibrant colors, soft to the touch, elastic and, above all, washable. The cost of printing is higher than other DTG printers, but the difference in price, according to our customers, is more than offset by the significant difference in print quality. Kornit simply ensures that the print stays beautiful, does not wash out, does not fade and always remains soft to the touch.
screen printing in several colors (you can also print demanding graphics and photos), soft to the touch, elastic and washable – and above all, the price per print is also acceptable for larger quantities.